Completely sold out to the King
More sets I would be willing to part with:
Eight-volume set of Kuyper's works as published by Lexham. The volumes include
On Islam, Pro Rege
vol. 1-3,
Common Grace
vol. 1-3, and
On the Church.
The five-volume set of John Eadie's commentaries on the Pauline Epistles. Eadie is my absolute favorite commentator on Paul's Epistles.
$100
This is the version I have: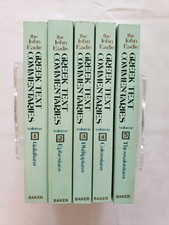 Find great deals for The John Eadie Greek Text Commentaries (complete 5 volume set). Shop with confidence on eBay!
Pastoral ministry bundle:
Princeton and the work of the Ministry 2 volumes (https://www.heritagebooks.org/produ...e-christian-ministry-2-vols-garretson-ed.html)
+ Gardner Spring's Power in the Pulpit (hardcover which is harder to find) + Al Martin's Pastoral Theology volume 1 +
Dabney's Evangelical Eloquence -
(I have some more titles I will add to this bundle. I am trying to find them now)
$125