Here's a "new" title that has been a long time in the works. This is Jeremiah Burroughs' 41 sermons on the Beatitudes titled "The Saints' Happiness." It was first published in London a few years after his death by some of his fellow preachers and admirers. That was in 1660. In 1867 it was reprinted in the Nichols Series of Puritan reprints, slightly updated, in a double columned, tiny print format that ran 264 pages in a 8 x 10 format. Soli Deo Gloria republished it in 1987 as a lithograph of that 1867 edition. Some used copies on the internet are selling for over $100.
This Northampton Press edition has been completely retypeset and edited in a larger font for easier readability. It is now 720 pages in a 5 1/2 X 8 1/2 format with an attractive dustjacket. It is printed on acid-free paper for a 250+ year shelf life and is sewn together rather than glued. Most books today are printed on paper with a high acid content and will yellow and fall apart in 8 years.
The late Dr. John Gerstner wrote the foreword for this book, in which he said: "I suspect that our Lord's Beatitudes were never more Scripturally, poignantly, and practically expounded than in these pages. Truly it is a blessed exposition of the 'blesseds.' Study this volume if you want a refresher course in the whole Bible."
The cost of paper has gone up substantially. The retail price for this very large volume (if you have "Moses' Choice" it is about the same size) is $50. Your price is $35.
The book is at the printers now and is scheduled to ship to me on October 27. There is already a shopping cart item for this book at
northamptonpress.org
.
Because of the high page count and the cost to publish this important work, this will be a limited edition reprint of 1000 copies.
When those are sold it will once again be out of print.
So I can take orders now but the book will not go out until early November.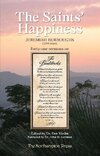 Dr. Don Kistler